The project is implemented under the Wielkopolska Regional Operational Program for 2014-2020 co-financed by the European Social Fund, Priority axis 8: Education, Measure 8.3. Strengthening and adapting vocational education and training to the needs of the labor market, Measure 8.3.4. Vocational training of youth and adults within ITI for the Poznań MOF.
PROJECT NO: RPWP.08.03.04-30-0002/16-00
PROJECT IMPLEMENTATION DATE: 01.04.2017 – 30.11.2019
PROJECT BUDGET:
Project value: PLN 10 211 554.06
100%
Contribution from European funds: PLN 8,679,820.95
85%
Own contribution: PLN 1,078,248.00
10%
Contribution from the earmarked subsidy: PLN 453,485.11
5%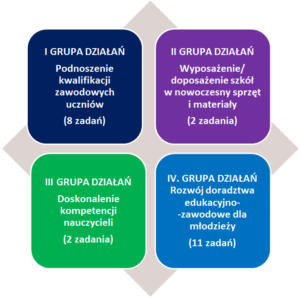 PROJECT PARTNERS

Planned effects (indicators)
The support will cover 23 schools providing vocational training (19 schools under the City of Poznań, 3 from Śrem County, 1 from the Oborniki Commune). In these schools, incl. vocational training laboratories / school workshops will be equipped with equipment and materials enabling the implementation of the core curriculum for vocational education in conditions similar to the actual work environment, and conditions will be created for the implementation of educational and vocational counseling through the creation and additional equipment of the workshop (School Information and Career Point), developing Programs of the Intra-School System of Vocational Counseling and standards of vocational counseling for new types of vocational schools and teaching materials for conducting classes.
It is estimated that 1,689 students from 23 schools will benefit from various forms of support (one student will be able to use several forms of support), including:

1140 students (330 women) will have an internship / apprenticeship in companies;
585 students (30 women) will take part in specialist trainings going beyond the core curriculum for vocational education;
1104 students (330 women) will take part in educational and vocational counseling classes.

Support will be provided to 128 teachers of vocational education and practical vocational training instructors (one teacher will be able to use several forms of support) from 23 schools, including:

30 teachers (15 women) will participate in post-graduate studies preparing to practice as a teacher of vocational subjects, or in the case of vocational education teachers and instructors – they will be able to extend the scope of education with a new profession / qualifications;
80 vocational education teachers (48 women) will be trained in the use of additional equipment provided to the school for vocational training / school workshops;
48 vocational education teachers (24 women) will take part in a series of trainings to improve qualifications and competences, including training in the development of personal and social competences of students;
50 vocational education teachers (30 women) will take part in internships in companies.

Support will also cover 78 teachers related to educational and vocational counseling in 23 schools, of which:

48 teachers (33 women) will take part in a series of training courses on improving the qualifications of career counselors, including obtaining preparation for conducting classes in the Individual Career Plan with students;
30 teachers (21 women) who perform career counseling tasks in schools will complete postgraduate studies leading to the qualification of a career counselor.